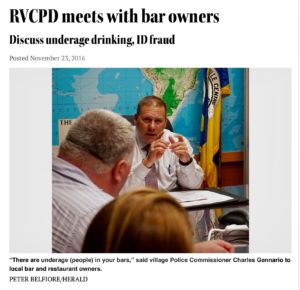 High ranking members of the Rockville Centre Police Department met with roughly two dozen local bar and restaurant owners at town hall on Nov. 16 to discuss liquor license regulations and ways to combat underage drinking.
 "We're here to help you," said Rockville Centre Police Commissioner Charles Gennario. But he warned, "Overcrowding, underage drinking and over serving are a disaster waiting to happen." Police Sergeant Paul Pope provided an overview of state liquor license regulations and some guidelines on spotting fake identification.
 Police officials acknowledged the challenges both parties faced in combating the fake IDs and underage drinking. "I could show you five New York licenses right now that I think are real, and they're fake," said Pope.
 But they also clarified that there was zero tolerance in regards to serving alcohol to underage patrons. The officials warned that they do perform sting operations with underage operatives and that the first sale of alcohol to an underage person carries a $6,500 fine from the State Liquor Authority.
 "Refuse the sale," was Pope's refrain for owners if they weren't absolutely sure the customer was over 21. But some were confused.
"How are we going to know?" asked North Village Tavern Owner, Gina Cronin, noting that the officers had just admitted even they could not identify a fake ID. Sergeant Pope's response was to ask for two forms of photo ID.
"Who carries around two IDs?" Responded Cronin. Roughly a quarter of people in the room said they did.
"Refuse the sale," Pope repeated. "It's not worth it." His answer left some of the owners unsatisfied.
 However, youth officer Nicholas DeLuca let the owners know that the department does have resources available for them to train their security personnel to spot fake IDs, despite the challenges in recognizing them. He carried around a binder with examples of different IDs for curious owners to look at.
 The officials implored the owners to call them about any kind of suspicious activity, even if they weren't sure of wrongdoing. "We like you to be proactive," said Pope. "Please call us."
 Gennario suggested that some owners make examples of underage drinkers. "If you confiscate and call in, word is going to get out," he said, noting that bars that crack down will gain a reputation and people with fake IDs will stay away.
 The owners were largely cooperative and made suggestions for how they could better help the police do their jobs. One popular suggestion was to put a moratorium on issuing new liquor licenses in the village. They claimed the village had become oversaturated with license holders.
Police officials tried to dispel any myths the owners might have about underage drinkers in their bars. "I am telling you," said the commissioner sternly, "there are underage (people) in your bars."